Getting the most out of the festival
2021 UPDATE:
As of June 2021, we have called time on Wine Festival Winchester, so there will be no more festivals.
Thanks to everyone who's attended or supported over the years.
Full refunds are available.
In the spirit of nostalgia, though, we're leaving up some of the (perhaps more entertaining, or illuminating) FAQs for you to enjoy as below:
What can I expect at Wine Festival Winchester?
To have a delicious time! The festival is taking place in the Bapsy and King Charles Halls in Winchester's beautiful Guildhall. They're spacious rooms and there will be many tables between the two rooms, each with an exhibitor showing wines, food or other things. Dip in and out as you choose, we have wines of all styles from English fizz to vintage port. The programme will have details of all wines and exhibitors on show.
Can I plan my visit?
We'll publish a list of our exhibitors before the event. Susie and Peter are on the floor for the duration of the festival, as well as leading masterclasses, so you can also ask them for tips – and clink their glass at the same time! Plus, we also have our Follow Your Taste web app to make discovering new wines fun – plus be in with a chance of winning the odd prize while you're at it. We'll release the web app early again this year so you can familiarise yourself with the tech as well as see the exhibitors and wines at the festival and plan your visit.
Where to start?
Follow Your Taste! We've devised a colour-coded system that breaks wine down into eight taste categories. Bottles will have coloured neck tags on so you can easily identify the style – and recognise which ones will suit you. It's an ice-breaker and invitation to experiment all in one. We even have coloured stickers for you if you want to show off your own personal taste preferences. There's a bit more explanation in this mini-vid:
What's this I hear about a festival app?
Such has been the success of Follow Your Taste that it has even evolved into a web app. Launched in 2016, on one level it is a fun treasure hunt game to find and rate wines around the festival, and you are sent an interactive PDF of all your results after the event.
In 2018, we upgraded the web app so you could select a tasting room in which to play the game. The web app then randomly generates wines in your chosen tasting room, allowing you to focus your wine walk. Each 'game' lasts six wines. You can win prizes both at the festival and afterwards. You are then sent a list of the wines you rated after the festival. In addition to being an element of fun (and point of difference with other events) this gives us good data from the festival.
Fresh for 2019, it was developed further as a virtual programme and festival guide. Access was enabled to the app ahead of the doors opening. The all new home screen allows visitors to browse Exhibitors and their wines ahead of the event. This also gives you the choice whether to simply use the web app as a digital programme, or play to generate your very own festival wine walk.
The web app also includes a search facility. This allows you to search for an exhibitor or a particular wine, giving you the opportunity to dip in and out of the game (or avoid playing the game altogether should you prefer). In doing so, you can continue to taste and rate further wines at an exhibitor's stand and record this on the web app before moving on.
Whether a wine is generated randomly by the game or searched for specifically by you, they will count towards the total number of ratings required to win prizes. And, most importantly, it will feature on the personalised wine list you will get emailed at the end of the festival. Each wine has a URL. These URLs will be included in the wine lists sent to you afterwards, allowing you to click through and buy the wine directly after the festival.
NB: you will be asked to enter your name, email and postcode to register for the app. These details will NOT be shared or used for marketing – it's so we can contact you if you win prizes, and also for data analysis purposes.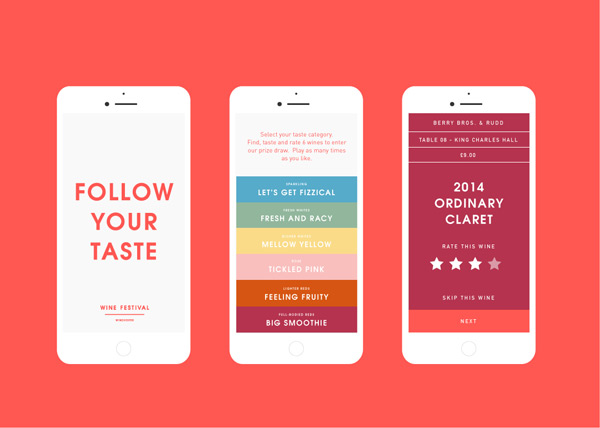 What about social media?
Tweet away! We're at @winefestwinch or #FollowYour Taste. Facebook, Twitter and Instagram. Show off!
Is it all wine or will there be food and other things to taste?
We are delighted to have delicious foods at the festival. A usual line-up would include freshly handmade chocolates by Chococo, pies by Jake's Artisan Foods and a selection of delicious cheeses & home-made chutney from historic local restaurant The Chesil Rectory. There may well be other tasty titbits around the place too!
How long should I spend there?
Each session lasts four hours. There's loads to see and taste but don't try to do too much. Better to take things nice and slow – you'll get more out of it that way. Make sure you take time to chat, drink our refreshing and locally sourced Hildon natural mineral water and visit the food tables. Go at your own speed and only spend as long as you feel comfortable at the festival. And remember, if you like what you're sampling then do buy on the day to take advantage of festival discounts.
What do I get for my money at the festival?
A free Riedel wine glass, free access to hundreds of wine samples, a free Wine Festival bag, exclusive festival discounts from retailers – and a chance to clink glasses with Susie & Peter and join in the fun!
What should I not miss out on at the festival?
Beyond the hundreds of beautiful wines to taste, there's lots to do. Enjoy a masterclass, enter the prize draw, sample local food, hunt down a unique gin… In short: have fun!
I'm keen to learn a bit more (but nothing too serious). What can I do?
Book into one of our masterclasses. You can find more details on our masterclass page. If you have trouble, any of our staff will be delighted to help.
How can I ensure I taste as many wines as possible?
By using the spittoons! It might seem odd but it's the best way to taste lots of wines without the alcohol catching up with you. It's what wine professionals do all the time – no exhibitor will take offence if you spit or pour what's left in your glass into one of the many spittoons around the rooms! If you're worried about spitting etiquette, maybe have a practice in the bath before you come – or watch this little video by Susie:
Can I buy wine at the festival?
Absolutely. It's a great way to pick up wines for the festive period or for presents. You can buy bottles on the day or, better still, order for home delivery later. And, because exhibitors are offering exclusive festival-only discounts and incentives, it's actually a great value way to buy.
What about other things?
There are other things to buy at the festival if you're on the lookout for fun wine-related gifts. We have aprons with our cheeky Follow Your Taste straplines (whether you're a 'big smoothie' or 'like it fresh & racy') plus wine festival coasters and tea towels. Or you can pick up our funky wine bags to take away your purchases. Come and see us on the day.
Are there freebies?
You bet! You get a free wine glass and wine bag to take away as part of your entry fee. All wine samples are free of charge.
Why do I get given a wine glass and is it mine to keep?
Once your ticket has been scanned you will be given a free wine glass. This is your personal glass to use for tasting during the Wine Festival and yours to take home with you as a souvenir afterwards. There is a maximum of one glass available per ticket holder. No replacements can be offered in the case of breakage.
I've heard about a prize draw..?
Yes, we run a prize draw on the day. So far we've raised over £16,500 for good causes and we'd love to boost that total. This year, we have our biggest ever line-up of prizes so don't forget to bring your cash and buy tickets on the day to support a great cause. You can find more details on our prize draw page.
If I want to make a proper day of it in Winchester, what can I do?
Winchester is a beautiful, historic city with plenty to see and do. What's more, its renowned Christmas market and ice rink is taking place just round the corner, in the Cathedral Close. If you feel peckish after the tasting, Winchester is packed with fantastic restaurants from established names like The Chesil Rectory, Black Rat, Palm Pan Asia, The Willow Tree, Corner House and Ghandi to newer venues like Rick Stein Winchester, Kyoto Kitchen, Côte, Piquant and Josie's. There's also the farmers' market on the Sunday in town. 'A beautiful festival in a beautiful city' is how one person summed it all up.
Is there water available?
Yes, Exhibitors will have water available on their stands to help you refresh your palate and hydrate. We will also have a Hildon Hydration station in both the Bapsy Hall and the King Charles Hall. Bottles of water will be available on each table so please make sure you help yourself.
What are the water biscuits for?
Sainsbury's have provided the water biscuits to allow you to cleanse your palate between tastings. They are available on the exhibitor stands so please help yourself.
What about planning my travel?
Winchester is extremely busy at this time of year, with the wine festival and Christmas market taking place. Please plan ahead and leave plenty of extra time. There are car parking options in town and at Park & Rides (the buses drop off near the Guildhall). But we'd advise public transport or taxis. See the location page for more details.
Finally, why not consider staying over and making a weekend of it? There are many nice places to stay in and around Winchester. Accommodation in Winchester includes the Hotel du Vin, The Black Hole, No 5 Bridge Street, Wessex Mercure and Hannah's B&B, while there are many great places outside the city.