Follow Your Taste App
Appy days! Our brand new app, which we've developed with the lovely people at Marmalade on Toast, made its debut at the 2016 festival.
The app is a treasure hunt game and is web-based, so no downloading needed. (Importantly, it is ONLY live during the festival, so can't be accessed before or after the event.)
You select your preferred wine style. Then you have to find and rate six wines of that type around the festival, generated at random by the app. Users can win prizes at any time – and you also get sent the list of wines you rated by email after the festival (so no more racking of brains the next day to remember your favourites!) You can play any number of times.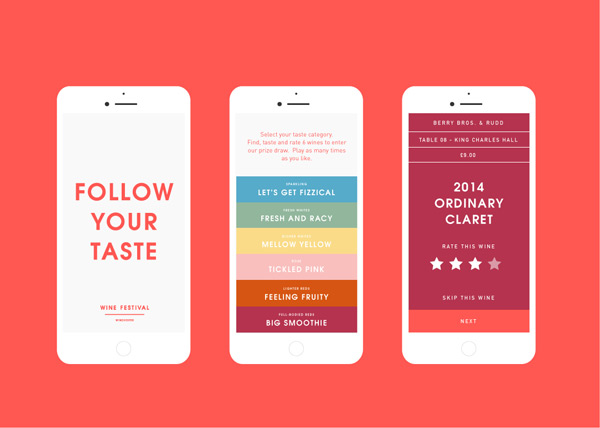 It's based on the ever-popular Follow Your Taste scheme unique to Wine Festival Winchester. This system breaks wine down into seven basic style categories, each with its own colour and strap line. All bottles at the festival sport colour-coded neck tags indicative of their style so you can experiment with confidence based on which style(s) you personally prefer.  And now it's also the starting point for this fun new app too!
After feedback from the 2016 festival, we're tweaking the app for 2017 and will report back with more details in due course. One thing we're aiming to do is make it more responsive to users' needs, introducing a search function and ability to step out of the 'random selection' of the treasure hunt to enable you to carry on tasting at a particular table, or find certain exhibitors or wines.
We're also adding wine URLs to the email you receive after the festival. So it's super easy to click and buy the wines you like best.