Follow Your Taste Web App
Appy days! Our web app, which we've developed with the lovely people at Marmalade on Toast, made its debut at the 2016 festival.
It's changed a bit since then. We've kept investing and developing, based on feedback and also our ultimate aim to make this a 'virtual programme' and minimise printing and paper wastage.
On one level, then, the app is a way to browse and find all the wines and exhibitors at the festival. Alternatively, you can use it as a treasure hunt game in which you find wines to suit your taste all round the festival.
However you use it, you can win prizes at any time. Plus, when you've rated six wines you're automatically entered into a prize draw for free tickets to next year's festival.
Perhaps the best bit, though, is that you're automatically sent the list of wines you rated by email afterwards, with live links to buy should you wish. Easy peasy – and no more racking of brains the next day to remember your favourites!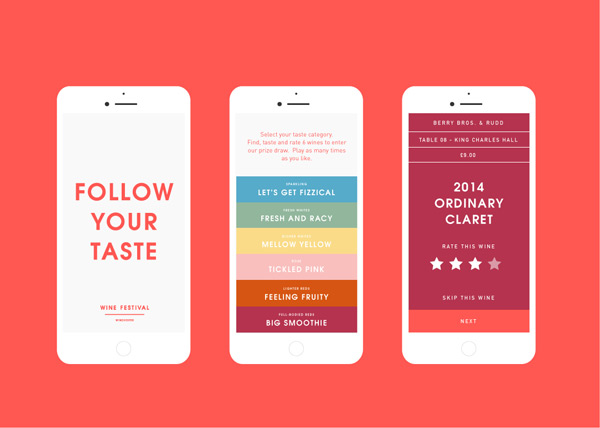 The app is web-based, so no downloading needed. This year, we released the app for access before the event so visitors could have a play as well as see all the wines and exhibitors on show, in order to plan ahead.
The app is based on the ever-popular Follow Your Taste scheme unique to Wine Festival Winchester. This system breaks wine down into eight basic style categories, each with its own colour and strap line. All bottles at the festival sport colour-coded neck tags indicative of their style so you can experiment with confidence based on which style(s) you personally prefer.
We're constantly upgrading the app based on valuable feedback. So please do get in touch to let us know any suggestions you may have. You can also re-start the game at any time or just focus on one particular room.
At the 2017 festival, 1514 ratings were made, of which 606 were the maximum four stars. Yum!